/

/

Residents impacted by Monday's fire top priority for Overland Park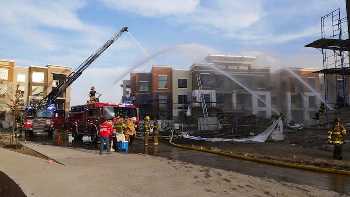 "Our first priority is focused on residents and building owners impacted by Monday's fire," said Jack Messer, addressing the city's next step in restoration and rebuilding.
Mayor Gerlach expresses sympathy for residents, offers support
"The Planning and Development Services Department is focusing on damage assessment and the process of restoration. We will remain disciplined on that priority and then shift to answering important questions about various issues related to construction and the incident. Those questions deserve answers and will be addressed in due time," said Messer, director of the department.
The CityPlace Fire incident command responsibility has shifted from the Fire Department to the Planning and Development Services Department. Planning and Development Services initiated its emergency operations plan late Monday.
Follow-up contact with owners or residents of the 25 homes damaged or destroyed by Monday's eight-alarm accidental fire is proceeding to initiate repairs and rebuilding efforts.
A map of the damaged property has been posted at opkansas.org/cityplacefire.
"We want residents back into their homes as quickly as reasonably possible. This means we are establishing direct communication, providing guidance and answering questions to assist with either remodeling or rebuilding a home. We will establish a schedule to routinely check in with them and make certain there are no issues. We understand this is a difficult, lengthy and arduous process. We are here to assist private owners in the restoration of their property to the extent we can," Messer said.
Overland Park is implementing a new process for those affected by the fire. The usual process is for a resident whose home is damaged or destroyed by a fire to initiate calls and contact with the city.
"We want to ensure that residents and their insurance companies are staying informed and receiving proper direction regarding any phase of construction," Messer added.
"The Overland Park City Council and I are fully supportive of this effort by our building officials. We all understand the fire's impact on displaced residents and how it changed their lives," Mayor Carl Gerlach said.
Mayor Gerlach witnessed firsthand the fire and its far-reaching damage Monday night when he toured the neighborhood and watched firefighters in action.
In addition to working directly with residents and property owners, building safety officials have completed their damage assessment. The more severely damaged residential properties been tagged with with either a red or yellow placard.
Red means buildings are unsafe and unlivable and there is no resident access; yellow means residents can access the home to remove items. All other homes damaged by the fire are safe to return and inhabit.
Residents and property owners whose homes were damaged or destroyed by Monday's fire should call City Hall at 913-895-6205. Three city staff members have been assigned to answer questions and assist callers.