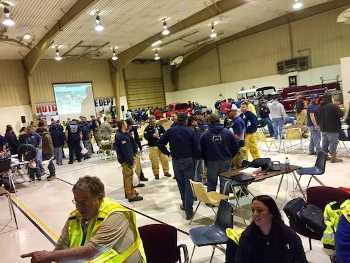 Tuesday afternoon eight Overland Park firefighters deployed to Hutchinson, Kan., to assist local crews.
Numerous damaging grass fires in central Kansas have erupted, stretching resources of paid and volunteer firefighters in multiple counties, and calling for a voluntary evacuation of residents in several towns.
Fires have burned over 625 square miles of Kansas land. For comparison, Johnson County is 477 square miles.
Kansas Gov. Sam Brownback has requested assistance from Wyoming and South Dakota, including the use of helicopters to drop water on the fires.
Overland Park will back fill Hutchinson fire stations, allowing for Hutchinson crews to respond to grass fires. Overland Park crews will not be working the grass fires.
Other Johnson County fire agencies sending resources to Hutchinson include, Olathe, Johnson County Fire District 1, Consolidated Fire District 2, Northwest Consolidated Fire District and Shawnee.